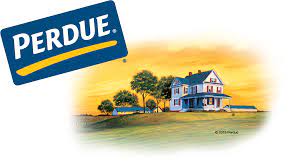 Perdue Farms
We believe that our success lies in listening to customers, changing and evolving to meet consumer needs and staying true to our core values, which include producing quality food, protecting the environment, providing for the welfare of animals and caring about others.
Hello, and welcome! On behalf of the entire Perdue Farms family, we're glad you are here. We invite you to learn more about our family of brands and products and shop for some of the finest poultry, pork, lamb and beef on the market.
When it comes to the food you feed your family, quality matters. And while there are a lot of options out there, Perdue Farms stands apart. In business for over 100 years, we are a fourth-generation, family owned American food and agriculture business that from the beginning has worked with family farmers across the country and endeavored to promote animal welfare, source the grain that goes into our animal feed and thoughtfully tend the land in our care. The Perdue family and company leaders conduct business based on how each decision will not only affect the next quarter but the next generation of consumers.
Farming techniques that are now considered trendy have been a part of our practice for years – we just never felt the need to fuss about them. Perdue chickens are fed a 100% USDA-certified vegetarian diet with no animal by-products. We're proud that all of our animals are raised with absolutely no hormones* and no antibiotics ever, and we are actively advancing our animal care programs. And we prioritize green practices – being good environmental stewards will help us continue to produce wholesome food for generations to come.